Hi OCS Fans;
September 1st has arrived, along with a brand new release from High Hopes Rubber Stamps, called Baby Boom.  To help celebrate this brand new release the DT divas from both the High Hopes and OCS Design Teams are hosting a Blog Hop.   Make sure you visit each gal to see what new release they have on their blog, leave a comment, and then go back to the challenge posts and leave a comment on the OCS or High Hopes blogs.  By leaving a comment you have the chance to win 2 unmounted High Hopes Rubber Stamps of your choice.  To see if you are a winner, make sure you check the OCS blog on Friday, September 2nd and the High Hopes blog on Friday, September 9th.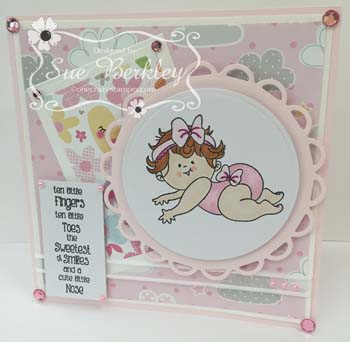 For my card today, I have used the adorable Baby Girl Crawling.
Supplies used:
We are going to start off with Kristine from High Hopes, then Leanne from OCS.
Sue → you are here
Happy Hopping and don't forget to leave a comment on each member's blog as well as the OCS DT and High Hopes DT blog.