Welcome back OCS fans;
It has been one of these days — good ole Murphy has had his fun  and I definitely wish I was retired.  More play time is a must, oh well a couple of more years and I will be there — no more extensions for anyone.
For my card today, I have used Snoozin' Sam from High Hopes Stamps.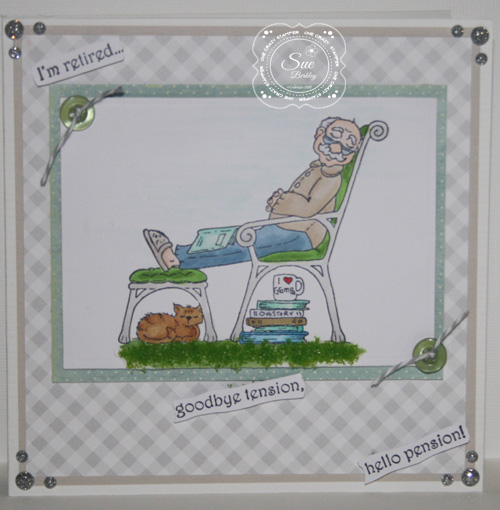 Supplies used:
Stamps:  Snoozin' Sam, I'm Retired (High Hopes Stamps)
Paper:  XPress It Blending Cardstock
Copic Markers:  Skin: E0000 – Floral White, E000 – Pale Fruit Pink; Hair: C00 – Cool Gray No. 00, C0 – Cool Gray No. 0; Glasses:  B91 – Pale Grayish Blue; Pants: B91 – Pale Grayish Blue, B93 – Light Crockery Blue, B95 – Light Grayish Cobalt; Shirt:  E40 – Brick White, E42 – Sand White; Slippers:  W00 – Warm Gray No. 00, W1 – Warm Gray No. 1; Cat:  E31 – Brick Beige, E33 – Sand, E35 – Chamois; Chair & Stool:  T0 – Toner Gray No. 0, YG13 – Chartreuse, YG17 – Grass Green; Other:  R27 – Cadmium Red, Y28 – Lionet Gold, B60 – Pale Blue Gray, BG10 – Cool Shadow, BG11 – Moon White, G00 – Jade Green, G000 – Pale Green, BG0000 – Snow Green
Flower Soft:  Shamrock Green
YNS Gumdrops:  Silver Tinsel
Do enter this month's "Anything Goes" challenge for a chance to win 2 unmounted High Hopes Stamps of your choice.  For any supplies that you want or desire check out Lora's One Crazy Stamper store (online as well as a brick & mortar) for some great prices.
Until next time, happy crafting;
Hugs;