Welcome back OCS Fans;
As  today is May 1st, OCS has a brand new challenge, which is "Anything Goes".  With this new challenge, High Hopes Stamps has a new release called "Darling Divas".  For today's card I have used the adorable stamp called "Apple".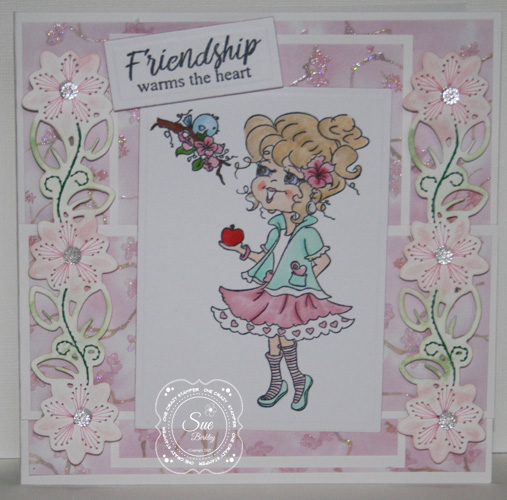 I used the Joy Crafts Cutting, Embossing & Embroidery Die # 6002/1204 for the sides.  I stitched them using a pink and green Sulky thread.  I also added some Versa Magic chalk — Aloe Vera and Pixie Dust to the embossed areas of the die.
Supplies used: 
Stamps:  Apple, Friendship Warms the Heart –

High Hopes Rubber Stamps

Paper: XPress It Blending Cardstock

Copic Markers:  Skin:  E0000 – Floral White, E000 – Pale Fruit Pink, R20 – Blush; Eyes:  B60 – Pale Gray Blue; Hair:  E41 – Pearl White, E42 – Sand White, E50- Egg Shel; Top: BG10 – Cool Shadow, BG11 -Moon White; Skirt: R85 – Rose Red, R83 – Rose Mist, R81- Rose Pink; Apple:  R27 – Cadmium Red; Bird and Branch: B41 – Powder Blue, YG17- Grass Green, R81 – rose Pink, R83 – Rose Mist, E27 – Africano

Atyou Spica Glitter Pen:  00 – Clear

There is plenty of time to enter this month's "Anything Goes" challenge for a chance to win two unmounted High Hopes Stamps of your choice.  For any supplies that you need or would like, check out both Lora's OCS online and brick & mortar stores for some great products and prices.
Until next time, Happy Crafting.
Hugs;